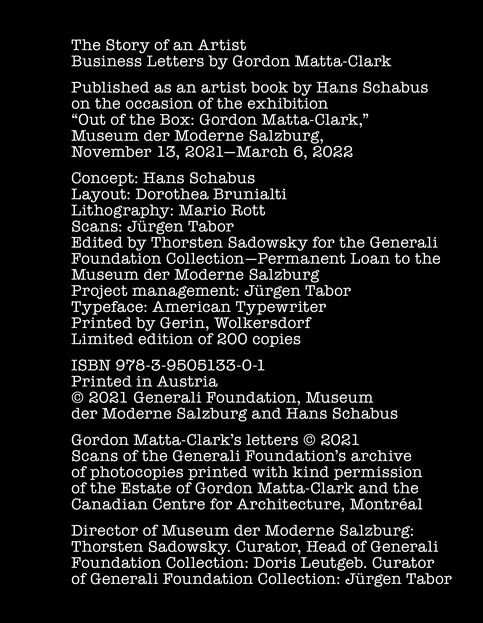 Hans Schabus
The Story of an Artist. Business Letters by Gordon Matta-Clark
Artist's book
Publication to the exhibition from November 2021 to March 2022.
Ed. by Thorsten Sadowsky for the Generali Foundation Collection—Permanent Loan to the Museum der Moderne Salzburg, Concept: Hans Schabus, Project management: Jürgen Tabor. Graphic design: Dorothea Brunialti.
Constituting a kind of nonfiction epistolary novel, the artist's book gathers all business letters—the Generali Foundation's archive has as photocopies of the original correspondemces—that Matta-Clark wrote between 1971 and 1978 as he struggled to realize his art: to galleries and museums, real estate companies, producers of materials and tool manufacturers, sponsors and funding agencies, fellow artists, curators, and other partners in his projects. The typewritten and partly handwritten letters provide insights, through Matta-Clark's eyes and in his own voice, into the urgency with which he pursued his work as an artist, conveying his personal view of his own work, and his powers of persuasion. They represent a collection of thoughts, many of which have outlived the early end to his life.
to the shop