Helix/Spiral (Simone Forti)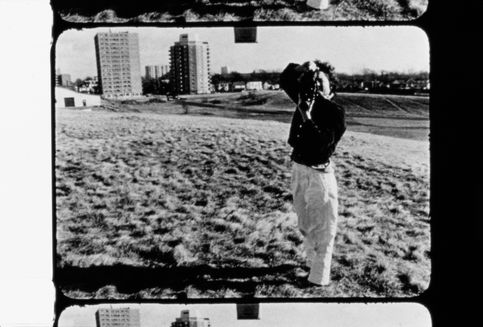 Dan Graham
Helix/Spiral (Simone Forti), 1973
Film installation 2 films, 16mm, transferred from Super-8-films, black and white, silent, synchronous projection on 2 opposite walls 10 min 15 sec (loop) Edition 1/10 + 2 A. P.
GF0003312.00.0-2002
Artwork text
The filmed images reflect all outer "edges" meeting at that moment in the two films' surface at that moment. Kinetic reverberations of the images are caused by the camera's movement against the inner cameramen's changing contour, as the instability in the outside cameraman's image is caused by his feet moving across the irregular topography of the land. Both cameras' lenses film the visual surfaces of the outside environment, film the other camera's front plane and lens, film both performers' subjective second mind's eye-views, and film both performer's observed exteriors. At each moment in their camera's continuous rotation, each projected film's view is an opposite 180 degrees of the surrounding 360 degree space. The two films are projected for simultaneous viewing on opposite walls. (Dan Graham)
Lending history

2007

Siegen, DE, Museum für Gegenwartskunst e.V.